MPSSAA GIRLS BASKETBALL RULES MODIFICATIONS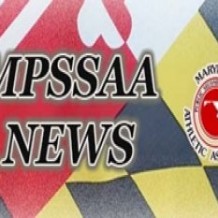 MPSSAA GIRLS' BASKETBALL WILL BE GOVERNED BY THE RULES OF THE NATIONAL FEDERATION OF STATE HIGH SCHOOL ASSOCIATIONS. HOWEVER , THE RULES WILL BE MODIFIED IN TWO (2) WAYS:
GIRLS WILL USE A 30-SECOND SHOT CLOCK (NCAA RULES 2-13, 4-32, AND 9-10)
GIRLS WILL NOT HAVE A TEN (10) SECOND COUNT TO MOVE THE BALL FROM BACK COURT TO FRONT COURT
SHOT CLOCK GUIDELINES
A SHOT-CLOCK TRY FOR FIELD GOAL IS DEFINED AS THE BALL HAVING LEFT THE PLAYER'S HAND(S) BEFORE THE SOUNDING OF THE SHOT- CLOCK HORN AND SUBSEQUENTLY STRIKING THE BASKET RING OR ENTERING THE BASKET.
THE TEAM IN CONTROL SHALL ATTEMPT A TRY FOR GOAL WITHIN 30 SECONDS AFTER GAINING TEAM CONTROL.
THE SHOT CLOCK IS USED FOR THE ENTIRE GAME, INCLUDING OVERTIME.
THE SHOTCLOCK OPERATOR SHOULD USE A TIMING DEVICE WITH HORN DIFFERENT FROM THE GAME CLOCK.
THE SHOT CLOCK SHOULD START WHEN A PLAYER INBOUNDS TOUCHES THE BALL ON A THROW-IN OR WHEN A TEAM INITIALLY GAINS POSSESSION OF THE BALL AFTER A JUMP BALL, REBOUND, OR LOOSE BALL.
THE SHOT CLOCK SHOULD BE STOPPED AND RESET WHEN TEAM CONTROL IS ESTABLISHED AFTER A TRY FOR GOAL STRIKES THE BASKET RING, A FOUL, OR WHEN A VIOLATION OCCURS.
THE SHOT CLOCK SHOULD STOP BUT CONTINUE WITH NO RESET UNDER THE FOLLOWING CIRCUMSTANCES:

BALL IS DEFLECTED OUT OF BOUNDS BY A DEFENSIVE PLAYER
A PLAYER IS INJURED OR LOSES A CONTACT LENS
A CHARGED TIME-OUT HAS CONCLUDED
DURING TEAM CONTROL, A DEFENSIVE PLAYER CAUSES A HELD BALL AND THE ARROW FAVORS THE OFFENSIVE TEAM.

THE OFFENSIVE TEAM UPON REGAINING POSSESSION OF THE BALL FOR THE THROW-IN SHALL HAVE THE UNEXPIRED TIME TO ATTEMPT A SHOT.

THE SHOT-CLOCK SHALL BE TURNED OFF WHEN THE GAME CLOCK SHOWS LESS TIME THAN A SHOT-CLOCK PERIOD.
10 SECOND COUNT/ BACK COURT
IN EFFECT, THE GIRLS' MODIFICATION TO THE TIME LIMIT ALLOWS A TEAM TO HOLD THE BALL IN THEIR BACKCOURT FOR THE ENTIRE 30 SECONDS OF THE SHOT CLOCK. IT SHOULD BE NOTED THAT ONCE THE BALL HAS MOVED ACROSS THE MID-COURT LINE INTO FRONT COURT, FRONT AND BACKCOURT RESTRICTIONS APPLY.
IT SHOULD ALSO BE EMPHASIZED THAT A CLOSELY GUARDED SITUATION CAN ONLY OCCUR WHEN A PLAYER IN CONTROL OF THE BALL IS CLOSELY GUARDED IN HER FRONT COURT.
ADOPTED SEPTEMBER, 1998